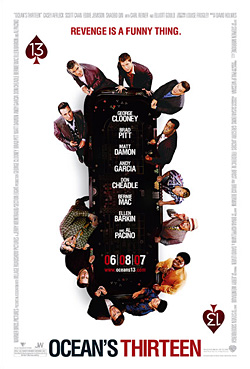 Ocean's Thirteen (2007)
Director :

Steven Soderbergh

Scriptwriter :

Brian Koppelman

,

David Levien

Production :
Warner Bros.
Cast :

George Clooney

(Danny Ocean), Brad Pitt (Rusty Ryan),

Matt Damon

(Linus Caldwell ), Al Pacino (Willy Bank),

Andy Garcia

(Basher Tarr),

Elliott Gould

(Reuben Tishkoff),

Casey Affleck

(Virgil Malloy),

Scott Caan

(Turk Malloy)
Release date :
08 June 2007
Genre :
Comedies / Action / Crime
Duration :
2 hr, 2 Dakika
Country :
United States
Website :
oceans13.warnerbros.com...
İntikam komik bir şeydir.
Movie Synopsis
Daha cesur. Daha riskli. Bugüne kadar yapılmış en görkemli soygun. George Clooney, Brad Pitt, Matt Damon ve daha fazlası, Steven Soderbergh'in yönetmenliğinde; zeka, stil ve karizmayla donanmış olarak yeni bir iş için yeniden toplandı.Oyunu yine Danny Ocean (George Clooney) yönetiyor, yani hiçbir pürüz çıkmıyor. Kimse yaralanmıyor. Kirli Vegas'ın kilit ismi Willy Bank (Al Pacino) haricinde. Ocean takımı onu zayıf yerinden vuruyor: cüzdanından. Bank'in yeni ve lüks kumarhane kulesi The Bank'in açılış gecesinde, kartların her çevrilişi ve zarların her yuvarlanışı bahisçilerden birine kazandıryor. Ve Bank'in gururunu zedeliyor çünkü kumarhanesinin göz koyduğu o Beş Elmas Ödülü'nü kazanma şansı azalıyor. Bu sadece bir başlangıç. Şimdi Ocean's 13 takımı The Bank'e girecek. Bahislerinizi koyun!
Serial movies
Ocean's Eleven

Release date : 15 Feb 2002




Director : Steven Soderbergh

Scriptwriter : George Clayton Johnson, Charles Lederer, Ted Griffin

Cast : George Clooney, Brad Pitt, Julia Roberts, Matt Damon, Casey Affleck, Andy Garcia

Ocean's Twelve

Release date : 04 Feb 2005




Director : Steven Soderbergh

Scriptwriter : George Nolfi

Cast : Brad Pitt, Catherine Zeta-Jones, George Clooney, Matt Damon, Julia Roberts, Andy Garcia, Casey Affleck, Scott Caan