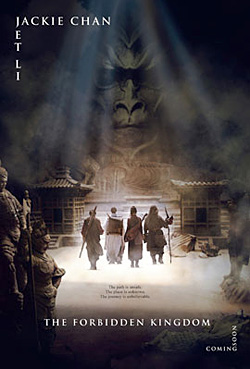 The Forbidden Kingdom (2008)
Director :

Rob Minkoff

Scriptwriter :

John Fusco

Production :
Casey Silver Productions
Cast :

Jet Li

(The Monkey King / The Silent Monk),

Michael Angarano

(Jason Tripitikas), Jackie Chan (Lu Yan / Old Hop),

Alexis Bridges

(Kam),

Juana Collignon

(Southie Girl),

Morgan Benoit

(Lupo),

Collin Chou

(Jade Warlord),

Yifei Liu

(Golden Sparrow / Chinatown Girl)
Release date :
9 May 2008
Genre :
Romance / Adventure / Comedies / Fantastic / Action
Duration :
1 Saat, 53 Dakika
Country :
United States
Website :
www.forbiddenkingdommovie.com...
Movie Synopsis
17 yaşındaki Jason Tripitikas (Michael Angarano), bir kung- fu fanatiğidir ve rüyasında sık sık Maymun Kral'ı görmektedir. Odasının duvarları uzakdoğu dövüş sanatı kahramanlarının posterleriyle kaplıdır. Ucuz kung- fu DVD'leri almak için sık sık Yaşlı Sekme adında gizemli kör bir adamın işlettiği dükkana gider.

Bir gün dükkanda, ucuna bronz bir maymun figürü işlenmiş, tıpkı rüyalarında gördüğü Büyük Bilge'nin kulladığına benzeyen bir asa bulur. Yaşlı Sekme ona asanın 100 yıl önce büyükbabası dükkanı açtığından beri orada olduğunu ve satılık olmadığını; bir adamın gelip onu gerçek sahibine götürmesi gerektiğini ama hiç gelmediğini söyler.

Bir başka zaman, sokak çetesi üyeleri Jason'ı Yaşlı Sekme'nin dükkanını soymalarına yardım etmeye zorlarlar. Çete üyelerinden birinin vurduğu Yaşlı Sekme, yere düşmeden önce asayı Jason'a emanet edip onu gerçek sahibine vermesini ister. Jason çete üyelerinden kaçarken elindeki asa ile birlikte çatıdan düşer. Kendine geldiğinde, kendisini elindeki asa ile birlikte eski Çin'deki bir köyde bulur…

Rob Minkoff'un yönetmenliğini üstlendiği filmin senaryosunu John Fusco yazmış.Uzakdoğu filmlerinin vazgeçilmez oyuncuları Jet Li ve Jackie Chan'i bir araya getiren filmde Jason karakterini Michael Angarano canlandırıyor. Peter Pau'nun görüntü yönetmenliğinde çekilen filmin orijinal müziklerini ise David Buckley bestelemiş.