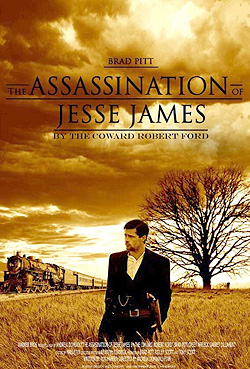 The Assassination of Jesse James by the Coward Robert Ford (2007)
Director :

Andrew Dominik

Scriptwriter :

Andrew Dominik

,

Ron Hansen

Production :
Warner Bros.
Cast :
Brad Pitt (Jesse James),

Mary-Louise Parker

(Zee James),

Brooklynn Proulx

(Mary James),

Dustin Bollinger

(Tim James),

Casey Affleck

(Robert Ford),

Sam Rockwell

(Charley Ford),

Jeremy Renner

(Wood Hite),

Sam Shepard

(Frank James),

Garret Dillahunt

(Ed Miller)
Release date :
16 Nov 2007
Genre :
Drama / Biography / Action / Crime / Western
Duration :
2 Saat, 40 Dakika
Country :
United States
Website :
jessejamesmovie.warnerbros.com...
Movie Synopsis
1881 yılında, kimin dost kimin düşman olduğunun kestirlemediği bir ortamda, 34 yaşındaki Jesse James (Brad Pitt), hem soygun planlamakta, hem de onu yakalayarak ödül kazanmak isteyen düşmanlarına savaş açmaktadır.

Ron Hansen'ın romanından uyarlanan "Korkak Robert Ford'un Jesse James Suikasti", ünlü bir kanun kaçağının ve onun öldüren kişinin yaşamını irdeleyen ve cinayet öncesi yaşananları sorgulayan, western görünümlü bir film.