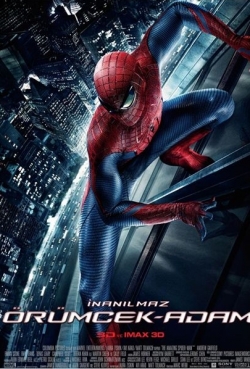 The Amazing Spider Man 2 (2014)
Director :

Marc Webb

Scriptwriter :

James Vanderbilt

Production :
Cast :

Andrew Garfield

,

Emma Stone

, Jamie Foxx,

Dane DeHaan

Release date :
25 Apr 2014
Genre :
Action / Fantastic / Adventure
Duration :
2hr 21min
Country :
Website :
Movie Synopsis
2012 de büyük sükse yapan İnanılmaz Örümcek Adam ın devam filmi olan The Amazing Spider Man 2 de Peter Parker ın işi hayli zor ve her günü yoğun. Zira Örümcek Adam olarak kötü adamların peşini bırakmıyor. Ama bir yandan da büyük aşkı Gwen e zaman ayırmaya çalışıyor. Lise mezuniyeti ise henüz ufukta görünmüyor. Gwen ın babasına verdiği sözü unutmayan Peter, Gwen e zarar vermemek için elinden geleni yapıyor ama kötü Electro nun ortaya çıkması, Harry Osborn geri dönüşü bu sözünü tutmasını oldukça zorlaştıracaktır. Peter Parker ın geçmişine dair ortaya yeni ipuçları Örümcek Adam ın gidişatını da derinden etkileyecektir.
Trailer of The Amazing Spider Man 2
Watch the trailer and videos of the movie here :