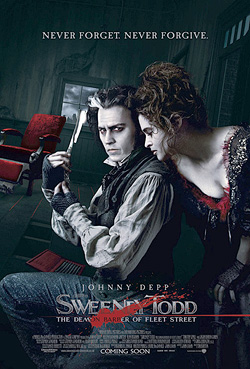 Sweeney Todd: The Demon Barber of Fleet Street (2007)
Director :

Tim Burton

Scriptwriter :

Stephen Sondheim

,

Christopher Bond

,

John Logan

Production :
Dreamwork Pictures
Cast :
Johnny Depp (Sweeney Todd),

Helena Bonham Carter

(Mrs. Lovett),

Alan Rickman

(Turpin),

Sacha Baron Cohen

(Pirelli),

Timothy Spall

(Beadle),

Jamie Campbell Bower

(Anthony),

Jayne Wisener

(Johanna)
Release date :
15 Feb 2008
Genre :
Musical / Thriller / Drama / Crime
Duration :
1 hr, 56 min.
Country :
United States / United Kingdom
Website :
wwws.warnerbros.co.uk/sweeneytodd/...
Movie Synopsis
Haksız yere hapse gönderilen ve intikam yemini eden Benjamin Barker, Sweeney Todd (Johnny Depp) kimliğine bürünerek Bayan Lovett'ın (Helena Bonham Carter) pastanesinin üzerindeki, eskiden kendine ait olan berber dükkanına geri döner. Amacı, karısı Lucy'yi ve küçük kızını ondan çalmak için alçak yardımcısı Beadle Bamford'la (Timothy Spall) birlikte kendisini uydurma bir suçla uzaklara gönderen Yargıç Turpin'i (Alan Rickman) gözlemektir.

Bayan Lovett Barker'a, Yargıç Turpin tarafından iğfal edilen karısının kendisini zehirlediğini söyler. Bu arada rakibi olan gösterişli İtalyan berber Pirelli (Sacha Baron Cohen), Barker'ı kimliğini ifşa etmekle tehdit edince, Barker onu öldürür. Cesetle ne yapacağını bilemez haldeyken, Bayan Lovett bu krizi sallantıda olan işini kurtarmak için çözüm olarak görür ve turtalarını insan etiyle doldurmayı önerir.

Sweeney, yargıcın bu kez de gözünü, ergenlik çağına gelmiş kızı Johanna'ya (Jayne Wisener) diktiğini fark eder. Yargıç, Johanna'nın vesayetini elinde tutmaktadır. Sweeney'yi denizden kurtarmış olan genç denizci Anthony (Jamie Campbell Bower) , günün birinde evde hapis hayatı yaşayan Johanna'yı fark edip ona delice aşık olur ve onu kurtarıp evlenmeye yemin eder.

Bu arada, Bayan Lovett'ın turtaları Londra'da dillere destan olmuş; satış patlaması yapmıştır. Bayan Lovett Sweeney'yle evlenip deniz kenarında yaşamayı düşlemektedir. Oysa Sweeney'nin aklında intikamdan başka bir şey yoktur...