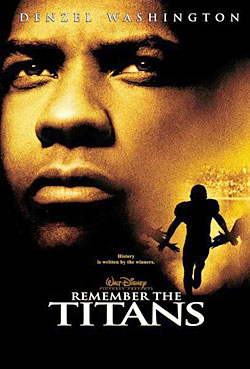 Remember The Titans (2000)
Director :

Boaz Yakin

Scriptwriter :

Gregory Allen Howard

Production :
Walt Disney Pictures
Cast :
Denzel Washington (Herman Boone),

Will Patton

(Bill Yoast),

Wood Harris

(Julius Campbell),

Ryan Hurst

(Gerry Bertier),

Donald Faison

(Petey Jones),

Craig Kirkwood

(Jerry 'Rev' Harris),

Ethan Suplee

(Louie Lastik),

Kip Pardue

(Ronnie 'Sunshine' Bass),

Hayden Panettiere

(Sheryl Yoast)
Release date :
2 Mar 2001
Genre :
Drama
Duration :
1 hr, 53 min.
Country :
United States
Website :
Oscar Ödüllü Denzel Washington bu coşku ve heyecan dolu filmde zafere yakışır bir performans sergiliyor. Gerçek bir hayat hikayesine dayanan Remember The Titans, sürtüşme, küskünlük ve güvensizlikle ikiye bölünmüş bir kasabanın bir zaferle nasıl tek yürek haline geldiğini anlatıyor.
Movie Synopsis
Yıl 1971... Takımını 15 yıl sezon şampiyon yapan futbol koçu Bill Yoast'un (Will Patton) yerine 1.koçluğa Herman Boone (Denzel Washington) getirilir.. Bu iki adamın aralarındaki farklılığın nasıl üstesinden geldikleri ve birbirine düşman bir grup genç adamı nasıl şampiyonlara dönüştürdüklerini izleyeceksiniz.