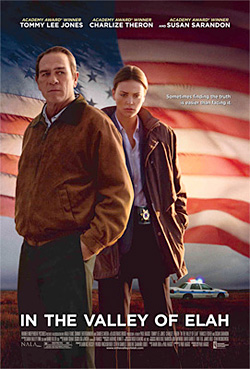 In the Valley of Elah (2007)
Director :

Paul Haggis

Scriptwriter :

Paul Haggis

,

Mark Boal

Production :
Blackfriars Bridge Films
Cast :

Tommy Lee Jones

(Hank Deerfield), Charlize Theron (Det. Emily Sanders),

Jason Patric

(Lt. Kirklander),

Susan Sarandon

(Joan Deerfield),

James Franco

(Sgt. Dan Carnelli),

Barry Corbin

(Arnold Bickman),

Josh Brolin

(Chief Buchwald),

Wayne Duvall

(Detective Nugent)
Release date :
28 Mar 2008
Genre :
Drama
Duration :
2 Saat, 01 Dakika
Country :
United States
Website :
wip.warnerbros.com/inthevalleyofela...
Bazen gerçeği bulmak onunla yüzleşmekten daha kolaydır.
Movie Synopsis
Irak Savaşı'nda asker olarak görev yapan Mike Deerfield, ülkesine döndükten hemen sonra gizemli bir biçimde ortadan kaybolur. Eski bir silahlı kuvvetler mensubu olan babası Hank Deerfield (Tommy Lee Jones) ile annesi Joan, oğullarını aramaya başlarlar. Mike'ın son görüldüğü yerde polis dedektifi Emily Sanders (Charlize Theron) onlara gönülsüzce yardımcı olur. Eldeki kanıtlar çoğaldıkça, genç askerin bir cinayete kurban gittiği ortaya çıkmaya başlar.

Emily ve Hank soruşturmanın kontrolünü ellerinde tutmaya çalışırken yüksek rütbeli subaylara karşı mücadele vermek zorunda kalırlar. Ancak Mike'ın Irak'ta geçirdiği dönemle ilgili gerçeklerin su yüzüne çıkmaya başlamasıyla Hank'in tüm dünyası allak bullak olacak; oğlunun ortadan kayboluşunun ardındaki gizemi çözmek için o güne kadar sıkı sıkı sarıldığı tüm inançlarını yeniden gözden geçirmek zorunda kalacaktır…

Gerçek bir öyküden yola çıkan "In the Valley of Elah", Paul Haggis'in yılın en iyi film dalında Oscar ödülünü kazanan "Crash"dan sonra yaptığı ilk film.