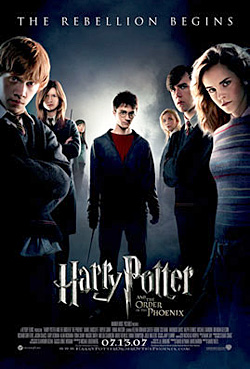 Harry Potter and the Order of the Phoenix (2007)
Director :

David Yates

Scriptwriter :

Michael Goldenberg

Production :
Warner Bros.
Cast :

Daniel Radcliffe

(Harry Potter),

Harry Melling

(Dudley Dursley), Emma Watson (Hermione Granger),

Rupert Grint

(Ron Weasley),

Helena Bonham Carter

(Bellatrix Lestrange),

Alan Rickman

(Severus Snape)
Release date :
10 Aug 2007
Genre :
Adventure / Fantastic
Duration :
2 hr, 18 Dakika
Country :
United States / United Kingdom
Website :
www.harrypotterorderofthephoenix.co...
"Dumbledore'un Ordusu" savaşa hazırlanıyor
Movie Synopsis
Hogwarts Cadılık ve Büyücülük Okulu'nda beşinci yılını bekleyen Harry Potter (Daniel Radcliffe) için yaz uzun ve yalnız geçmiştir. Nefret ettiği Dursley ailesiyle birlikte yaşamak zorunda oluşu bir yana, ne sınıf arkadaşlarından ne de en yakın dostları Ron Weasley ve Hermione Granger'dan (Rupert Grint ve Emma Watson) tek mektup almıştır. Ayrıca kimseden, kötü kalpli Lord Voldemort'la (Ralph Fiennes)yüzleşmesine ilişkin hiçbir şey duymamıştır. Gelen tek mektup da hiç umduğu gibi değildir; Harry'nin okul dışında ve bir Muggle olan iğrenç kuzeni Dudley'nin (Harry Melling) yanında yasadışı sihre başvurduğu için Hogwarts'tan uzaklaştırılmak üzere olduğunu bildirmektedir. Bunu iki Ruh Emici'nin nedeni belirsiz ve açıklanamayan saldırısına karşı kendini savunmak için yapmış olması da önemli değildir.

Harry'nin tek umudu, onun okuldan temelli gitmesini tercih eden Sihir Bakanı Cornelius Fudge'ın (Robert Hardy) yönettiği kurmaca mahkemede kendini savunmaktır. Büyük ölçüde Hogwarts'ın emektar müdürü Albus Dumbledore'un (Michael Gambon) müdahalesiyle Harry suçsuz bulunur, ama okuluna dönerken kaygılı ve huzursuzdur. Büyücülük camiasının büyük kesiminin, kendisinin Valdemort'la son karşılaşma hikayesinin düpedüz yalan olduğuna ikna edildiklerini ve haysiyetinin sorgulanmakta olduğunu görür.

Kendisini dışlanmış ve yalnız hisseden Harry, yakında yaşanacak sinsi olayların habercisi gibi görünen kabuslar görmeye başlar. Daha da kötüsü, akıl danışmaya en çok ihtiyaç duyduğu Profesör Dumbledore, kafası karışmış ve incinmiş genç büyücüye karşı birden bire tuhaf bir şekilde mesafeli davranmaya başlar.

Bu arada, Fudge, Dumbledore'a göz kulak olmak ve Hogwarts öğrencilerini, özellikle de Harry'yi kontrol altında tutmak amacıyla okula yeni bir Karanlık Sanatlara Karşı Savunma öğretmeni atar: Kendini olduğundan farklı gösteren Profesör Dolores Umbridge. Fakat Profesör Umbridge'in "Bakanlık onaylı" savunma sihri dersi genç büyücüleri, tehdidi altında bulundukları Karanlık Güçler'e karşı tamamen çaresiz bırakır.

Böylece, Hermione ve Ron'un teşvikiyle, Harry dizginleri ele almaya karar verir. Kendilerine "Dumbledore'un Ordusu" adını veren küçük bir öğrenci grubuyla gizlice görüşmeye başlayan Harry, onlara kendilerini Karanlık Sanatlara karşı nasıl savunacaklarını öğreterek, bu cesur genç büyücüleri yakında geleceğini bildiği olağanüstü savaşa hazırlar...