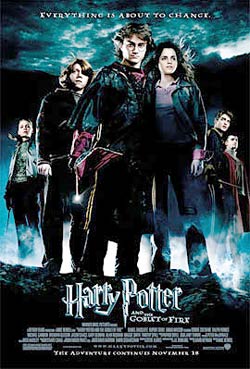 Harry Potter and the Goblet of Fire (2005)
Director :

Mike Newell

Scriptwriter :

Steve Kloves

,

J.K. Rowling

Production :
Warner Bros.
Cast :

Eric Sykes

(Frank Bryce),

Timothy Spall

(Wormtail (Peter Pettigrew)),

David Tennant

(Barty Crouch Junior),

Daniel Radcliffe

(Harry Potter), Emma Watson (Hermione Granger),

Rupert Grint

(Ron Weasley),

Mark Williams

(Arthur Weasley),

James Phelps

(Fred Weasley),

Oliver Phelps

(George Weasley),

Bonnie Wright

(Ginny Weasley),
Release date :
18 Nov 2005
Genre :
Fantastic / Adventure
Duration :
2 Saat, 37 Dakika
Country :
United States / United Kingdom
Website :
harrypotter.warnerbros.com...
Movie Synopsis
Ateş Kadehi`nden Harry Potter`ın (Eric Sykes) ismi çıktığında, artık Harry üç büyücülük Okulu arasında, onur kazanmak amaçlı yapılan rekabetçi Üç büyücü Turnuvası`nda yarışmacı olmuştur. Fakat aslında, Harry ismini asla bu turnuva için çekilişe vermemiştir, peki bunu kim yapmıştır? Şimdi Harry, ölümcül bir ejderha ve acımasız su iblisleri ile karşılaşacak ve büyülü bir labirentte kendisini Adı Anılmaması Gereken Kişi`nin avcuna düşmüş bulacaktır.