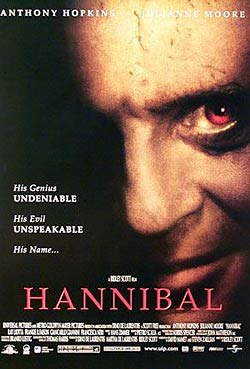 Hannibal (2001)
Director :

Ridley Scott

Scriptwriter :

David Mamet

,

Thomas Harris

Production :
Metro Goldwyn Mayer
Cast :
Anthony Hopkins (Hannibal Lecter),

Julianne Moore

(Clarice Starling),

Gary Oldman

(Mason Verger),

Ray Liotta

(Paul Krendler),

Giancarlo Giannini

(Renaldo Pazzi),

Francesca Neri

(Allegra Pazzi),

Hazelle Goodman

(Evelda Drumgo)
Release date :
6 Apr 2001
Genre :
Thriller / Crime
Duration :
2 hr, 11 Dakika
Country :
United States / United Kingdom
Website :
Romantik katil artık özgür...
Movie Synopsis
"Silence of the Lambs"in devamı niteliğinde olan filmde Dr.Hannibal Lecter'ın (Anthony Hopkins) FBI ajanı Clarice Starling'in (Julianne Moore) söyleşi yapmak için geldiği maksimum korumalı hastaneden kaçışının üzerinden tam 10 yıl geçmiştir. Artık İtalya'da yaşamakta olan Lecter, gardiyanların bulunmadığı bir ortamda "özgür" bir hayat sürmektedir. Ancak Dr.Lecter'la karşılaştığı günü asla unutamayan Clarice onun soğuk sesiyle bezenmiş rüyalar göredursun, Lecter'ı unutamayan bir diğer isim de altıncı kurbanı Verger'dır. Hayatta kalmayı başaran Verger ailesinden kalan yüklü mirasın tümünü Lecter'dan intikam alabilmek için gözden çıkarmıştır. Lecter'ı açık alana çekmenin, ona ulaşabilmenin tek yolu olduğunu bilerek önüne hiç dayanamayacağı bir yem koymayı amaçlar. Bu yem hiç kuşkusuz ki Starling'dir...
Serial movies
Silence of the Lambs

Release date : 14 Feb 1991




Director : Jonathan Demme

Scriptwriter : Thomas Harris, Ted Tally

Cast : Jodie Foster, Anthony Hopkins, Scott Glenn, Anthony Heald

Red Dragon

Release date : 15 Nov 2002




Director : Brett Ratner

Scriptwriter : Thomas Harris, Ted Tally,

Cast : Anthony Hopkins, Edward Norton, Ralph Fiennes, Harvey Keitel, Ralph Fiennes, Mary-Louise Parker, Philip Seymour Hoffman

Hannibal Rising

Release date : 9 Feb 2007




Director : Peter Webber

Scriptwriter : Thomas Harris

Cast : Aaran Thomas, Gaspard Ulliel, Li Gong, Helena-Lia Tachovská, Richard Leaf, Dominic West