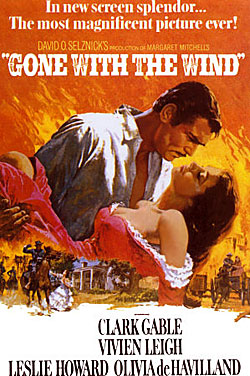 Gone With The Wind (1939)
Director :
Victor Fleming
Scriptwriter :

Sidney Howard

,

Margaret Mitchell

Production :
Metro Goldwyn Mayer
Cast :

Clark Gable

(Rhett Butler),

Vivien Leigh

(Scarlett O'Hara),

Leslie Howard

(Ashley Wilkes),

Olivia de Havilland

(Melanie Hamilton),

Thomas Mitchell

(Gerald O'Hara),

Barbara O'Neil

(Ellen O'Hara),

Evelyn Keyes

(Suellen O'Hara)
Release date :
Genre :
Drama / Romance / War / History
Duration :
3 hr, 58 min.
Country :
United States
Website :
warnervideo.com/gonewiththewind...
Amerikan İç Savaşı döneminde geçen bu sürükleyici yapıt.
Movie Synopsis
Filmde Scarlett (Vivien Leigh), Rhett (Clark Gable), Ashley (Leslie Howard), Melanie (Olivia de Havilland), Mammy (Hattie McDaniel) ve Prissy (Butterfly McQueen), tüm kuşakları etkileyen destansı hikayeyi anlatan ölümsüz karakterleri canlandırıyorlar.

Ateşli ve bencil tabiatlı yarı İrlandalı güneyli güzel Scarlett O'Hara, centilmen Ashley Wilkes'i sevmektedir ve duyguları karşılıksız değildir. Fakat kendini beğenmiş, asi, fırsat düşkünü Rhett Butler da Scarlett'a âşıktır. Ashley, kibar kuzeni Melanie ile evlenir. Çünkü Scarlet'ın tutkulu karakterine karşılık, Melanie ile ortak huzurlu, sakin karakterlerinin çok daha iyi bir evliliğe yol açacağını düşünmektedir.Bu arada Rhett ve Scarlett ilk karşılaştıklarında aralarında bir elektriklenme olur ve bu Scarlett'ın ilk iki evliliği boyunca da sürer. Scarlett ve Rhett nihayet evlenirlerse de güzel kadın hâlâ sevdiği Ashley'in özlemini çekmektedir.