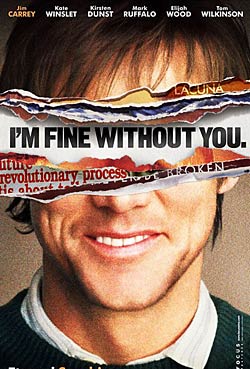 Eternal Sunshine of the Spotless Mind (2004)
Director :

Michel Gondry

Scriptwriter :

Michel Gondry

,

Charlie Kaufman

Production :
Focus pictures
Cast :
Jim Carrey (Joel Barish),

Kate Winslet

(Clementine Kruczynski),

Elijah Wood

(Patrick),

Gerry Robert Byrne

(Train Conductor),

Thomas Jay Ryan

(Frank),

Mark Ruffalo

(Stan),

Jane Adams

(Carrie)
Release date :
26 May 2006
Genre :
Romance / Drama
Duration :
1 Saat, 49 Dakika
Country :
United States
Website :
www.eternalsunshine.com...
Movie Synopsis
Clementine (Kate Winslet) ve Joel (Jim Carrey) iki senelik ilişkileri olan bir çifttir. Clementine ani kararlar vermeyi seven bir kişiliğe sahiptir ve Joel ile ilgili tüm hafızasını sildirmiştir. Bu beklenmedik ani olay karşısında şaşkına dönen Joel aynı prosedürü kendi üzerinde uygulatmaya karar verir. Clementine ile ilgili hafızaları tek tek kaybolurken pişmanlık duymaya başlar ve anılarını kurtarmanın yollarını arar.