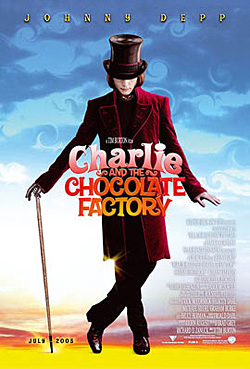 Charlie and the Chocolate Factory (2005)
Director :

Tim Burton

Scriptwriter :

John August

,

Roald Dahl

Production :
Warner Bros. Pictures
Cast :
Johnny Depp (Charlie Bucket),

Freddie Highmore

(Willy Wonka),

Helena Bonham Carter

(Bayan Bucket),

Christopher Lee

(Wonka'nın Babası),

Ty Dickson

(Oompa Loompa),

David Kelly

(Büyükbaba),

Harry Taylor

(Bay Gloop),

Julia Winter

(Veruca Salt)
Release date :
12 Aug 2005
Genre :
Fantastic / Comedies / Adventure
Duration :
1 hr, 55 min.
Country :
United States / United Kingdom
Website :
chocolatefactorymovie.warnerbros.co...
Movie Synopsis
Willy Wonka'nın (Johnny Depp) fabrikasında sizi hangi mucizeler bekliyor? Çikolata Odasında yumuşak nane şekerli çimenleri keşfe çıkın... Burma şekerden ejderha başlı bir tekneyle Çikolata Nehri'nde ilerleyin... İcat Odası'nda deneyler yapın...Yetenekli sincapları Fındık Odası'da inceleyin ve Televiyon Odası'na cam asansörlerle yolculuk edin. Sonsuz eğlence, biraz gizem...