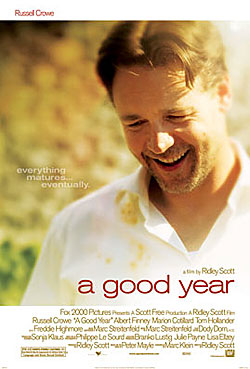 A Good Year (2006)
Director :

Ridley Scott

Scriptwriter :

Marc Klein

,

Peter Mayle

Production :
Twentieth Century Fox
Cast :

Russell Crowe

(Max Skinner),

Marion Cotillard

(Fanny Chenal),

Archie Panjabi

(Gemma),

Freddie Highmore

(Genç Max Skinner),

Albert Finney

(Henry Skinner), Abbie Cornish (Christie Roberts)
Release date :
10 Nov 2006
Genre :
Romance / Drama / Comedies
Duration :
1 hr, 58 min.
Country :
United States
Website :
www.agoodyeardvd.com...
Movie Synopsis
London-based investment expert Max Skinner moves to Provence to sell a small vineyard he has inherited from his late uncle. Max reluctantly settles into what ultimately becomes an intoxicating new chapter in his life, as he comes to realize that life is meant to be savored.
Trailer of A Good Year
Watch the trailer and videos of the movie here :