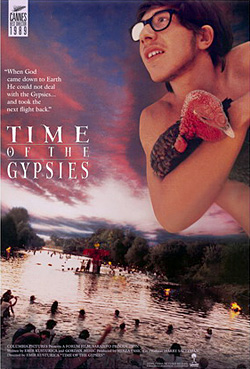 Time of the Gypsies (1988)
Director :

Emir Kusturica

Scriptwriter :

Emir Kusturica

,

Gordan Mihic

Production :
Forum Sarajevo
Cast :

Davor Dujmovic

(Perhan),

Bora Todorovic

(Ahmed),

Ljubica Adzovic

(Khaditza),

Husnija Hasimovic

(Merdzan),

Sinolicka Trpkova

(Azra),

Elvira Sali

(Danira),

Suada Karisik

(Dzamila)
Release date :
09 şubat 1990
Genre :
Comedies / Drama
Duration :
2 hr, 16 Dakika
Country :
Italy / Yugoslavya
Website :
Yönetmen Emir Kusturica'ya uluslararası alanda tanınma getiren ve Cannes'da coşkuyla taçlandırlan çarpıcı bir yapım.
Movie Synopsis
Perhan (Davor Dujmovic) Romanya'da büyükannesiyle yaşayan bir çingenedir. Biraz kendi iç dünyasında biraz da kızarkadaşı Azra'nın (Sinolicka Trpkova) aşk ateşinin içinde yaşamaktadır. Genç çingene, duygu yoğunluğu yaşadığında nesneleri uzaktan hareket ettirebilmektedir.

Kasabanın zengini Ahmed (Bora Todorovic), ondan yararlanmak için kız kardeşi Danira'yı (Elvira Sali) tedavi ettirmek vaadi ile Perhan'ı kendisiyle birlikte şehre gelmeye ve yaşadığı yeri terketmeye ikna eder. Gittiği İtalya'da beklediğinden uzak bir manzarayla karşılaşan Perhan bu yeni hayata tek bir şey için katlanır: yeterince para biriktirmek ve sevdiklerine geri dönüp evlenebilmek. Bir yandan da bacağından ameliyat olmak için onlardan ayrılan kızkardeşini bulmayı ummaktadır.
Trailer of Time of the Gypsies
Watch the trailer and videos of the movie here :