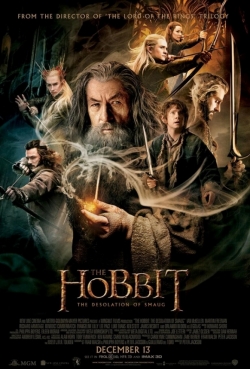 The Hobbit : The Desolation of Smaug (2013)
Director :

Peter Jackson

Scriptwriter :

Peter Jackson

,

Philippa Boyens

,

Frances Walsh

,

Guillermo del Toro

Production :
New Line Cinema
Cast :

Martin Freeman

(Bilbo Baggins),

Richard Armitage

(Thorin Oakenshield),

Ian McKellen

(Gandalf the Grey),

Evangeline Lilly

(Tauriel)
Release date :
13 Dec 2013
Genre :
Adventure / Fantastic
Duration :
2hr 41min
Country :
United States, New Zealand
Website :
Movie Synopsis
Hobbit üçlemesinin ilk filmi olan Hobbit: Beklenmedik Yolculuk un devam filmi olan yapım Misty Dağları ndan başarıyla geçen Thorin ve beraberindekilerin Mirkwood ormanındaki zorlu maceralarına odaklanıyor. Yanlarında Büyücü Gandalf olmadan ormanı geçmek zorunda olan Hobbitler insanların yaşadığı bölgeye ulaştığında Bilbo Baggins in cücelerle olan anlaşması da son bulacak. Yalnız Dağ a ulaşmak zorunda olan ekip ulu ejder Smaug un saklandığı inine giden Gizli kapıyı bulabilecekler mi... Peki güneye doğru gizli bir görev peşinde olduğunu söyleyen Gandalf nerede...
Trailer of The Hobbit : The Desolation of Smaug
Watch the trailer and videos of the movie here :
Serial movies
Hobbit: Beş Ordunun Savaşı

Release date : 19 Dec 2014




Director : Peter Jackson

Scriptwriter :

Cast : Martin Freeman, Richard Armitage, Evangeline Lilly, Lee Pace, Luke Evans