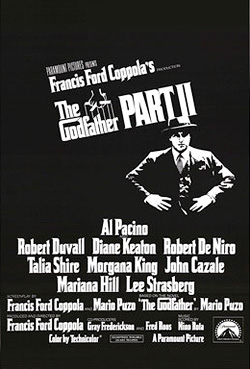 The Godfather Part II (1974)
Director :

Francis Ford Coppola

Scriptwriter :

Mario Puzo

,

Francis Ford Coppola

Production :
Paramount pictures
Cast :
Al pacino (Don Michael Corleone),

Robert Duvall

(Tom Hagen),

Diane Keaton

(Kay Corleone),

Robert De Niro

(Vito Corleone),

John Cazale

(Fredo Corleone),

Talia Shire

(Connie Corleone),

Lee Strasberg

(Hyman Roth),

Michael V. Gazzo

(Frankie Pentangeli),

G.D. Spradlin

(Senator Pat Geary),

Richard Bright

(Al Neri),

Gastone Moschin

(Don Fanucci)
Release date :
20 Dec 1974
Genre :
Thriller / Drama
Duration :
3 Saat, 20 min.
Country :
United States
Website :
Michael: I've always taken care of you, Fredo.
Fredo Corleone: Taken care of me? I'm your older brother, Mike, and you're taking care of me? Did you ever think about that?
Movie Synopsis
Vito Corleone (Robert De Niro) 1910'larda Sicilya'dan New York'a gider ve çeşitli işlerde çalışarak ailesine bakar. 1950'lere gelindiğinde Micheal Corleone (Al Pacino) işleri büyütmüş Las Vegas Hollywood ve kübaya uzanan bir yelpaze oluşturmuştur.
Serial movies
The Godfather

Release date : 24 Mar 1972




Director : Francis Ford Coppola

Scriptwriter : Mario Puzo, Francis Ford Coppola

Cast : Marlon Brando, Al Pacino, James Caan, Richard S. Castellano, Robert Duvall, Sterling Hayden, John Marley, Richard Conte, Al Lettieri, Diane Keaton, Talia Shire, John Cazale

The Godfather Part III

Release date : 25 Dec 1990




Director : Francis Ford Coppola

Scriptwriter : Mario Puzo, Francis Ford Coppola

Cast : Al pacino, Diane Keaton, Talia Shire, Andy Garcia, Eli Wallach, Joe Mantegna, George Hamilton, Bridget Fonda, Sofia Coppola